---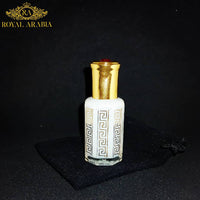 Lovely scent
This perfume is gorgeous. Lovely and thick with a gorgeous smell. I was so happy to receive such a beautiful perfume. Great for all occasions.
Gorgeous scent!
When I received this I was so so happy. I'm glad I was recommended this. Definitely a summer scent. Thanking you.
My favourite scent
I always use this white musk when i'm going out, it's just a beautiful fragrance. I don't think anything can beat this one.
Introducing Al-Haramain's White Body Musk, an oil-based perfume ideal for Muslims seeking an alcohol-free fragrance option. The thick formulation comes in a glass bottle and stick for easy application, making it perfect for attending congregational prayers or spending time with loved ones.
Manufactured in Dubai, this exquisite scent is created by the renowned company Al-Haramain, ensuring the highest quality and long-lasting fragrance experience. Elevate your scent game with White Body Musk by Al-Haramain.
Fragrance Notes: Thick Musk, with complementing notes Rose and Jasmine.